DR. VICTOR TAYLOR
CFO & General Secretary of Finance & Investment ~ Christian Methodist Episcopal Church – Dept. of Finance & Investment
Praise the Lord for His mighty blessings! My life features Mississippi family roots, which now extend across the nation. I have had the opportunity to dedicate thirty-one years of private sector practice as an Investment Advisor for elite Wall Street securities firms – managing hundreds of millions of dollars of client funds.
Additionally, I have studied, debated, and authored legislation on many of the great financial issues of the day involving the CME Church. I served as Secretary of the Standing Committee on Finance at the 1994 and 1998 General Conferences. My graduate degree is a Master of Business Administration in Finance & Managerial Economics from the J.L. Kellogg Graduate School of Management at Northwestern University. My prior tenure as General Secretary, for some twelve years, was marked by trust, integrity, and innovation. Those attributes remain as watchwords for my candidacy for General Secretary of Finance (CFO) of the CME Church. I pledge to find new, positive, and profoundly impactful financial solutions that benefit the general, regional, and local church. I have had previous experience – raising more than $100,000 for the W.L. Graham Scholarship Fund for Males, pioneering meeting consolidation at the national church level, saving the general church more than $700,000 in audiovisual costs over the years, and assisting our current CFO in creating investment opportunities for the general church. My wife, Wanda, and I have been married more than thirty years. We have two children and one granddaughter. At my local church I am the Recording Stewart and I am proud to lead the 2014 General Conference Lay delegation for my region.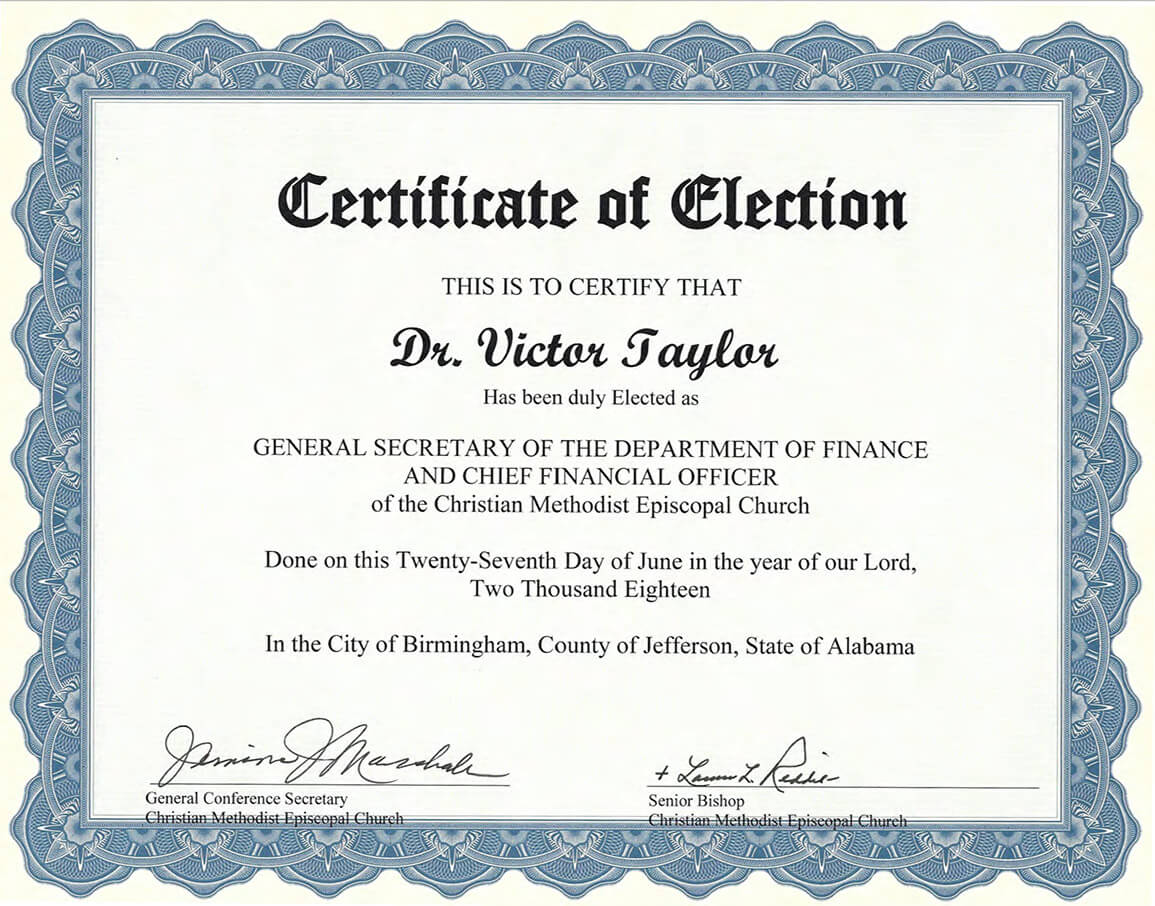 OCCUPATION
Major Wall Street Firm – Investment Advisor since 1982
First Vice President – (Chicago, IL)
---
FAMILY
Wanda Faye (nee, Owens): spouse
Christine Natasha, 36: Songwriter
Philip Nathaniel, 32: Electrician & Hon Disc Sergeant US Marines
Nevaeh-Rae, grandchild (15)
---
EDUCATION
Coe College, Cedar Rapids, Iowa
1980 – BA Business Administration & Economics
Northwestern University — J.L. Kellogg Graduate School of Management, Evanston Illinois
1982 – MBA Finance & Managerial Economics
---
SELECTED HONORS
2000 – Honorary Doctorate of Laws – Texas College of Tyler, Texas
2002 – School named "Dr. Victor Taylor International Day Care & Primary School of Minya Nigeria"
2007 – CFP Certificant
Beaumont High School Wall of Fame Member
2013 – Inducted Young Adult Hall of Fame CME Church
Chairman's & President's Club – Investment Industry – career
2017, 2018, 2020 – PREMIER ADVISOR – Investment Industry
2017 – Phillips School of Theology Annual Associate of the Year
African American Senior Management – Focus Group
2020 – CME Church Business Executive of the Sesquicentennial Anniversary
---
HOBBIES
Development of technological innovations
Certified in five fitness disciplines
Traveling the world
---
CHURCH RESPONSIBILITIES
LOCAL – New Hope CME, Evanston, IL; Recording Stewart;renovation project managing multimedia ministry
GENERAL CHURCH – Member General Connectional Board 1994-98; Alternate Delegate 1986 General Conference; Regular Delegate 1990,1994, 1998, & 2014 General Conferences; Secretary 1994 General Conference Finance Committee; Delegate to World Council of Churches 1991 (Canberra, Australia) & 1998 (Harare, Zimbabwe)
GENERAL SECRETARY OF LAY MINISTRY – CME CHURCH 1998 – 2010
Authored 1st new Lay Manual in 24 years and sold more than 7,000 copies; built a $100,000+ endowment Graham/Webb Scholarship Fund for Males; development of the official CME web site www.thecmechurch.org; developed CME TV (today provides A/V services for connectional CME Church conventions; SVOD/VOD
GENERAL SECRETARY OF FINANCE & CFO 2014 – PRESENT
Built an automated platform for the CME Church involving electronic payroll, travel management, expense reimbursement, accounting, and banking. Current focus is on electronic integration, innovation, and connectional budget elimination.
Created a national platform for annual assembly of Investment Advisors known as the African American Financial Consulting Network. That genre of assembly continues to this day throughout the industry.